What do I do?
So, what do you do?
This is not a simple question AT ALL.  I don't even know if my own mom knows what I do.
(Just kidding Mom, of course you do!)
The way I usually answer really depends on who is asking the question. Do they have any sort of tech background?…or do they come from a completely different industry? …what do they know about marketing? …Is this really something I want to get into?… These are all things I consider before I reply.
I usually keep things super simple by saying "I'm a designer." It's a good blanket term. But, I'm not just a designer. My work is about 40% design and 60% development. So sometimes I'll go a little deeper and say that I'm a designer and a web developer.
This is where I completely lose people.
Most people aren't familiar with how a website is made – they just know that it is something "built on the internet"  or that how many aspects- email, app, text messages are web based. In reality, the web is a combination of design AND development.
Using a car as a metaphor:
A developer would be responsible for building various components of a web application,  like the engine, transmission, wheels, etc. to construct a fully-functional car that is error-free in its technical aspects.
A designer would be responsible for the aesthetic design, in a car that would be the look and feel of the car,  the comfort of the seats, the layout of the dashboard, as well as the convenience in driving and riding in the car.
This makes sense, right?
Just as sea anemones and clown fish in nature, web developers and designers have a symbiotic relationship in working together to create an amazing product.
Well, I am both. Sometimes I only design, and sometimes I only develop, sometimes I run the entire project, and sometimes I assist on development team.
That said I think I settled on this: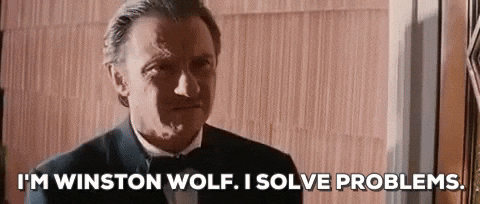 All fun gifs aside, at my core I solve problems. They are mostly creative and logistical–for all types for businesses, in various stages of their progression. From start ups that need a name, url and logo to prove to the world that they exist, to legacy companies that are looking for a complete refresh taking their business in an entirely new direction.
If you are like me and are a designer, or "not just a designer", or a very specific type of designer, what do you call yourself? Leave a comment below.